OUR DISHWASHER REPAIR SERVICES
Having appliances around the house that don't work like they should means that you are left frustrated, wasting energy and money washing dishes two or three times before they are passably clean.
---

THAT'S WHERE WE COME IN.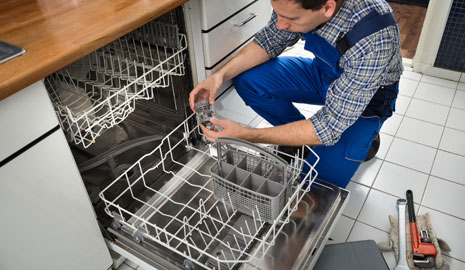 The dishwasher is one of the most important components in our daily lives. We will ensure smooth operating, time saving, hassle-free repairs and maintenance every time. We understand how frustrating it can be. Dishwashers vary from model to model.
With over 15 years of experience fixing, repairing, and maintaining home appliances, our company has remained consistent in our service, confident in our quality and comprehensive in our work. This means that you get appliances that run like they should—efficiently, effectively and for years to come. Our passion for what we do really shows, and it's what allows us to give our customers the service they need.
Common Dishwasher Factors To Consider
Fill proper amount of water
Wash and circulate water and dish soap
Drain effectively
rinsing
Dry heat dry or non heat
We repair most major brands, including: LG, GE, Samsung, Kitchen Aid, Fridgidaire, Bosch, Electrolux, Whirlpool, Amara, Maytag, and More. You could be saving money, time, effort and energy by hiring your Maryland appliance repair specialists to fix your dishwasher, especially if it:
Common Dishwasher Problems:
Doesn't clean
Won't drain
Has buttons that don't work
Has lights that are flashing or blinking
Is leaking
Is leaking from motor area
Won't start
Won't latch
Has a dispenser that doesn't work
Won't fill
Is making noise
Is overflowing
Won't dry dishes
Suds in Whirlpool dish washer
Door seals on Electrolux
Water valves on LG
Pump/Seal on GE dish washer
Hoses, heater, blower
Switches and solenoid on Maytag
Timer on Kitchenaid dish washer
Drive motors and start relay on Samsung
Electric heater on Viking Dish Washers
Detergent dispensers on GE dish washers
Blower motor on LG dish washer
Your appliances are unique with problems that may be more than they seem. Don't trust a DIY video to understand what is going on. If you are tired of dealing with appliances that don't run well, or don't run at all, then contact us today and see what our experienced technicians can do for you. With a free quote from a friendly team member and a company that services all major brands, you have nothing to lose. Call today!